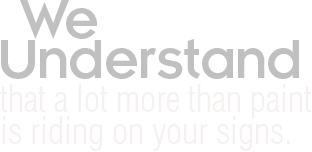 From design to installation, we are more focused on your image than any other sign company. Your reputation is at stake, which is why so many smart small business owners choose Bellandi Signs.
They understand that if a sign is poorly designed, no matter how little it costs, it is not a good investment of their advertising dollar. We understand layout and design, as well as the proper use of color.
With the most experienced team, and high-tech equipment we are able to provide you the most effective sign advertising possible. Call us today for a free quote on your next project.